Technology: we adhere to what has been tested by time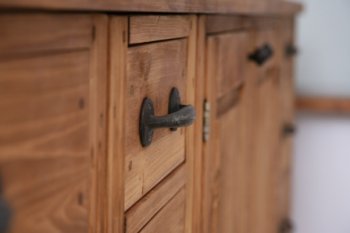 We utilize the technology of furniture production from the beginning of 20th century, which is based on the application of manual labor. Our masters successfully use their restoration experience in creating new models.
There is a good saying in carpentry: things must be made to last! As at the beginning of the last century, we utilize only natural wood for the production of furniture. All component parts of our pieces, including concealed components, such as bottoms of drawers and the rear walls of cabinets, are made from solid wood.
The average width of the lamellas of furniture facades, table tops and sidewalls is 90 mm and can reach 200 mm. Our items are characterized by strength and stability of construction. The characteristic components of our items, are the square wooden plugs, which are whittled by hand and serve as decorative furniture silencers. All items of furniture are assembled at the plant and sold in assembled form. This does not include beds, tables and benches.
Furniture Treatments
Our articles are created with the use of high-quality and environmentally friendly materials. We specialize in various wax coatings, which are applied by hand. Wax can be water-repellent and simple; it is possible to apply in one or several layers, depending on the needs of buyer.
We can also offer painted or stained/washed furniture for an additional charge.
Maintenance of waxed furniture
Waxed furniture from solid wood does not require special care. However, we would like to suggest the following for its use:
1. During winter, dry air accumulates in heated premises. In order to prevent the furniture from drying out, we recommend regular airing of premises. In addition, it is advised to use an air humidifier.
2. Surfaces should be cleaned with just a dry cloth.
3. Sharp and rigid objects can leave tracks on the surface of the furniture.
4. During the first 10 weeks one should not leave objects in one and the same place for a prolonged period of time, e.g. flower vases and fruit bowls. Other wet and hot objects can also leave marks on the surface of waxed furniture.
5. Waxed items of furniture will benefit from a periodic coat of fresh wax. With the aid of a brush or dry rag, apply the wax to the surface of the furniture and wait several minutes to be absorbed. Then polish the surface with a clean cotton cloth. With such care, the value of solid wood furniture will increase with the years. This is furniture, made to last.